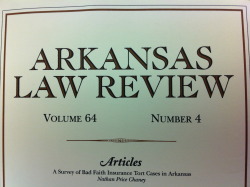 The Arkansas Law Review published an article in its Winter 2012 edition authored by Nathan Chaney. The article is entitled "A Survey of Bad Faith Insurance Tort Cases in Arkansas" and contains a summary of hundreds of bad faith cases decided by Arkansas state and federal courts.
Bad faith cases are unique to insurance companies. All contracts have an 'implied duty of good faith,' but the only time someone can sue for a breach of this duty is when an insurance company does the breaching. Since insurance companies usually dictate policy terms, insurance policies are considered 'contracts of adhesion' that consumers can either sign or reject as-is, and cannot negotiate terms. The consumer's absence of an ability to negotiate is why insurers are held to a higher 'bad faith' standard.
There are two types of bad faith. The first type is called 'third party bad faith.' When an insurance company must defend someone (such as when the policyholder causes a wreck), the insurance company owes a 'fiduciary duty' (the highest legal duty owed by one to another) to the insured. That duty requires the insurance company to settle the case if it has an opportunity to do so and settlement would be reasonable under the circumstances. If it does not settle in this situation, it can be liable for negligent refusal to settle or outright bad faith.
The other type of bad faith is 'first party bad faith.' That involves a situation where an insured makes a claim with the insurance company and the insurance company treats the insured with ill will, hatred, or outright malice. First party bad faith usually arises in one of two circumstances: (1) the insurance company denies the claim on the merits without conducting a proper investigation, or (2) the insurance denies the claim despite facts in the file showing that the claim should be paid.
In a nutshell, insurance companies are supposed to give insureds the benefit of the doubt in the absence of hard evidence that they shouldn't. When they don't, they commit bad faith.